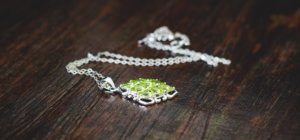 Necklaces have been a staple of adornment since the beginning of recorded history. From simple shell and bead necklaces of the Stone Age to the pectoral collars of ancient Egypt, to the myriad variations available today, the necklace has remained a time-honored and coveted jewelry category. A necklace can be worn by anyone. For an overview of current necklace trends and definitions of popular necklace styles, we offer you the following guide to finding the perfect necklace for you.
what are the Types of Necklaces?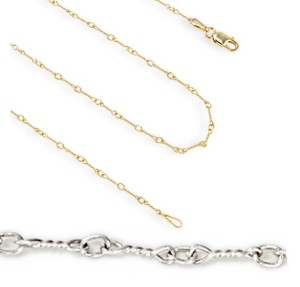 Station Necklace: With the trend towards layering necklaces still going strong, the station necklace has become a popular style in this category. Station necklaces vary in length with 16 inches to 28 inches total length frequently seen. A station necklace will have a larger design element, sometimes a pearl or bead, link or disc, separated by shorter lengths of a thinner chain. One of the most popular station necklace styles is the "Tin Cup" necklace which has remained popular for decades.
Lariat: A lariat style necklace is characterized by its long length, open ends, and absence of a clasp. The popularity of the lariat necklace has increased, most likely due to its versatility. It can be worn knotted, doubled like a scarf with the ends threaded through the loop, or draped. These are just some of the configurations possible with a lariat style necklace.
Y Necklace: The Y necklace will have a moderate length of 16-20 inches around the neck and features a center station from which a drop will hang, usually from a chain. The Y necklace creates an interesting optical effect. The vertical lines create an illusion of greater length because the human eye consistently interprets vertical lines as longer than even the same horizontal length. Due to this phenomenon, a Y necklace can make your neck appear longer.
Omega: Omega necklaces are comprised of tightly linked vertical bars that give the appearance of a solid plane. Omega necklaces come in a variety of widths and have some flexibility. Popular omega styles include reversible omegas, where one side will feature yellow metal and the other side will feature white metal. Wider omegas have a very substantial appearance and make for powerful statement jewelry. They are often worn with slide pendants.
Slide: A slide necklace features a pendant and chain combination where the pendant has no bail, but rather moves freely along a neck chain that is threaded directly through it. Slides are a pleasing way to accessorize an omega necklace. Slide pendants are available for thinner chains as well. When purchasing a slide pendant for a chain already in your possession, make sure the clasp on your necklace will fit through the opening in the slide.
Bib Necklace: A bib necklace is a series of nesting chains or beads that are connected to a single chain. The layered elements rest against the chest and are usually three to five varying lengths, one inside the other. The single chain will begin around the top of the collarbone and go around the back of the neck. Often, the layered chains are decorated with charms, pendants, briolettes, or other drops.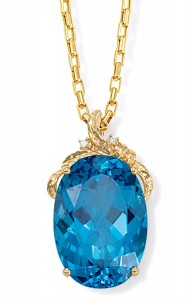 Pendant: A pendant is a removable design element that hangs from a neck chain but is not permanently attached to the chain. A pendant usually has a bail that connects to the central design element. The chain is threaded through the bail. Many pendants are sold with the chain included, but some are not. Make sure you know if the pendant you are planning to purchase comes with a chain. If you want to wear the pendant with a chain you already have, make sure the clasp ends of the chain will fit through the bail.
Lavalier: A lavalier is a type of pendant with a vertical orientation and is characterized by the absence of a bail. Popular among college students, the gift of a lavalier bearing Greek fraternity letters is considered to be a symbol of romantic commitment.
what is the best Necklace Length?
Collar: Used to describe pearl or bead necklaces, the collar is pretty much what its name describes: a super short 12 to 13 inch necklace that hugs the middle of the neck. Usually worn in multiple strands of three or more, the collar should only be worn against the skin and never against clothing.
Choker: A choker is a necklace that is usually 14 to 16 inches in length and will embrace the collarbone. Youthful and attractive, pearl chokers are extremely versatile and make a great day-to-night necklace.
Princess: At 18 inches, this length represents the classic and most popular necklace length. The princess falls several inches below the collarbone and is the first word in the pearl jewelry wardrobe.
Matinee: Sophisticated and sexy, the pearl matinee necklace is 20-25 inches. This classy necklace whispers refinement and barely meets the bust line.
Opera: Usually describing pearls, opera length necklaces are usually 26 to 36 inches in length. The first of the pearl strands to take the plunge into deep décolletage territory, these dramatic pearls are traditionally worn at night.
Sautoir: Any bead or pearl necklace longer than 37 inches is referred to as a sautoir, or rope. And as long necklaces are incredibly in vogue, few necklaces are going to look as spectacular as rope. A sautoir can be worn doubled or tripled and captured the long necklace trend and layered look perfectly.
How do your necklaces compare with the styles trending today? Can you work with what you have and add a few new pieces to get the long and layered look? Let us know which necklace style is your favorite.  Don't have one? Browse a selection of necklaces and share with us on Facebook.