It takes a moment or two to get past the medley of products displayed on the Angara homepage. Beyond the visually stunning assortment of products lies is a company with heart. Featuring themed jewelry, gifts, and collectibles, Angara.com brings new meaning to the concept of one-stop shopping. With something for everyone, their broad product selection and competitive prices makes this online retailer an attractive destination for shoppers with a list to check off.
One thing we like is the prominent display of their Testimonials from a variety of customer – these seems to be backed up by their A+ rating with the Better Business Bureau. Savvy shoppers know to check out the reputation of an online retailer, and Angara.com makes it easy by providing a link to detailed information about everything from how many years they have been in operation to the manner in which they resolve conflicts.
Boasting an astounding 9,000 different products, the selection at Angara is enormous.  With a comprehensive selection of jewelry basics, from chains and charms to earrings and pendants,  and classics such as this classic Blue Sapphire and Diamond Three Stone Engagement Ring  an enchanting round blue sapphire amid two shimmering diamonds and can be purchased for less than $800. Angara makes a luxury item attainable.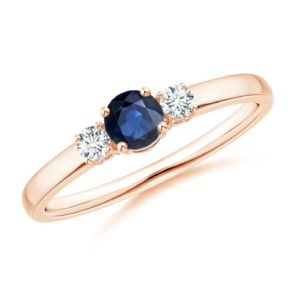 They also carry an impressive selection of men's jewelry and accessories. They provide engraving services to personalize a selection that at times can seem impersonal due to its size. If you have the time to browse thousands of products, you will undoubtedly find a bargain. Gemstone enthusiasts will enjoy surfing the numerous pages of gemstone jewelry including diamond, opal, garnet, turquoise, onyx, sapphire, and pearl to name a few. The best way to find their gemstone jewelry is to shop by type of jewelry or use the search. It's good if you have some idea of what you are looking for, otherwise, you would need to quit your job to make time to sort through all of the product offerings on the Angara website!
While Angara does take customer service seriously, they can also be endearingly down to earth, featuring customer testimonials that are candid and frank as they are complimentary. Angara.com offers a lifetime warranty on the products they sell. Customers are offered a 30 day return window, less shipping and handling. No returns on engraved or custom orders are allowed. Shipping direct from their warehouse to you, the friendly and knowledgeable staff is only a phone call away. You can also compare their selection with that of other notable vendors by clicking on one of the items below.