From celebrity designer collections to the hottest trends, Welry.com brings you an online shopping experience like no other. Previously known as Jewelry.com, this company prides itself on its unique "story based shopping" that makes shopping for jewelry easy and fun. Describing its collection as a curated treasure hunt, Welry.com makes two things clear: they want you to buy jewelry and they want you to have a blast doing so. The site is well-organized, social media savvy (with links to engaging blog articles, a Facebook page and a Pinterest board), contains jewelry care and education articles, as well as a dazzling selection of jewels. Celebrity design enthusiasts will enjoy the Collection section while bargain hunters will undoubtedly flock to the clearance section where dozens of diamond pieces can be had for less than $500.00.
The assortment is huge, with over 2500 individual pieces in the online store. So how does a savvy shopper navigate the expansive inventory? Welry.com allows the customer to shop by price, by type of item, by gemstone, by metal, even by gender. The shop by gender feels a little forced, as out of the nearly 1,500 pieces, a paltry 39 are designed for men. But there are articles that speak directly to men, offering advice on how to buy jewelry for women!
The Birthstones collection is highly touted with a field that leads to a dedicated homepage. With a selection of colored stones from Amethysts to Zircon, the Birthstone collection is fresh, featuring sentimental "love" script designs, loopy butterflies and hearts, and multi colored gold and silver. We like the edgy Men's Jewelry collection on the basis of its sheer boldness: Featuring steel, stones, and silver this manly collection is small, but has a cohesive look with definitive rebel flair. The prices are alluring, starting at around $30 for a Solid Figaro Link Bracelet , and topping out at a attainable $3600 for a gold Curb Chain Bracelet.
While shoppers will undoubtedly enjoy the treasure hunt style shopping and the unique collections, we advise you to read carefully and if something looks too good to be true (from a price perspective), it just might be due to differences in the nature of the gemstone. This Pink & White Sapphire Ring caught our eye and the price of $41 seemed a unbelievable deal.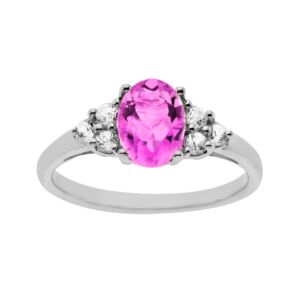 A close reading of the product description reveals a telling adjective in the language " oval-cut created pink sapphire". The important word, "created" is referring to the ruby, so this is a lab created ruby and not a natural gemstone – and that is what drives the extra ordinarily low price. But since the word "created" does not appear in the title,  always read product descriptions carefully!
Rounding out customer service is Welry.com's 60 day return policy and free shipping. Edgy, glamorous, and fun Welry.com is a fine place to shop for those who don't mind paying attention to the fine print. Compare the Welry.com collection with other fine retailers by clicking on an image below.