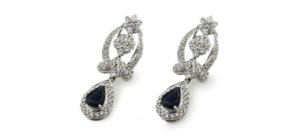 If you are thinking about buying earrings as a gift for someone or for yourself, you are in luck. Earrings make a wonderful gift because you do not have to worry about whether or not they will fit. Women with pierced ears often wear earrings every day, so you can be sure that your choice will get plenty of wear either by you or by your recipient. As you begin your selection process, we've prepared an "earring primer" for you. Be aware of different earring styles, rising trends, and what you can expect to pay. We'll start with the basics, and b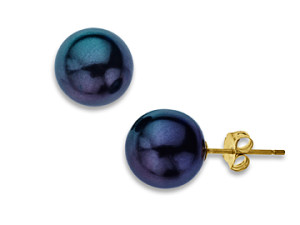 uild from there.
Different styles of earrings are suitable for certain occasions. Think day wear, evening, office/professional, and formal. A well rounded collection of earrings will include jewelry suitable for these occasions that compliments your hairstyle as well as your fashion choices.
What are the types of earrings?
A basic earring wardrobe should at its minimum consist of one or more pairs of:
Stud Earrings: Worn on the ear and usually secured with "push back" closures, a classic stud earring will be suitable for most occasions. Popular choices include a structured and uncluttered gold stud ball or button style earring, pearl stud earrings, or diamond stud earrings. Any of these would be suitable for every day. Classic gold or pearl stud earrings can be found for $50.00-$100.00. A pair of diamond studs can run from $2,000.00 up to $20,000.00 or more depending on the carat weight.
Trend alert! Gemstone stud earrings in fancy cuts are catching our attention. Think outside the traditional round silhouette and reach for the vintage appeal of cushion cuts or the tailored look of princess cuts.
Hoop Earrings: Hoop earrings can be dressy or casual. A pair of simple gold or silver hoop earrings will get you through the day, but choose something with gems or diamonds for night. The larger the hoop, the more casual it will look. Oversized hoops can look fun and youthful as long as the profile is slim. Basic silver hoops may start as low as $40.00, while diamond "inside-out" hoops might be closer to $6,000.00.
Trend alert! Hoop earrings set with gemstones are making a splash, particularly if the gems are set in the inside of the hoops as well. "Inside-out" gemstone and diamond hoop earrings look great from every angle.
Hinged Hoop Earrings: Hinged hoops, or "huggies" as they are often called get their name from their exaggerated width and hinge mechanism that lets the earring sit very close to the earlobe, giving the appearance that the earring is hugging the ear. When set with diamonds or gems, hinged hoops can be a wonderful and versatile addition to your hoop earring collection. Hinged hoop earrings start at around $100.00 and top out around $1,000.00.
Drop Earrings: Drop earrings usually have a stud or button top secured with a push back and a small gem or charm that hangs just below the earlobe. Instead of the stud top, a drop earring may be secured with a leverback (hinged wire closure) or French wires (bent wire with no backs). Drop earrings are a good choice for day, casual, professional, or evening; but you will want something more dramatic for formal occasions. Simple freshwater pearl or semi-precious gemstone drops can be around $40.00-$140.00 while precious gems can go for closer to $1,200.00.
Dangle Earrings: Similar in structure to the drop earring, dangle earrings hang well below the earlobe and even below the jaw line. Dangle earrings may have multiple drops and are a good choice for formal occasions. With the wide range of dangle earrings available, you can expect to pay anywhere from $40.00-$4,000.00.
Trend alert! Expect to see slender, extra long earrings out at night. These "shoulder duster" earrings are slim, and very very long!
Chandelier Earrings: Ornate, often with multiple gemstones sporting different cuts (think faceted briolettes in addition to rounds, pears, and marquis cut- yes, all in the same earring!) chandelier earrings are one trend that shows no sign of waning. Suitable for formal evening occasions, a dynamite pair of chandelier earrings is a definite must-have. Semi-precious gemstone chandelier earrings will be in the hundreds of dollars. Precious gem and diamond earrings will be in the thousands.
Shopping online for earrings has a distinct advantage, and that is the stunning close up photography that many online jewelers provide. Many subtle nuances that you would never notice "in real life" can be discerned in the zoom feature that many o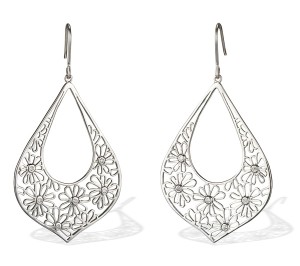 nline jewelers provide. The disadvantage is that you cannot try the earrings on until you purchase them, and the weight of the earrings must be considered. Wearing earrings that are too heavy can be uncomfortable if you expect to wear them for a substantial length of time.
If you are shopping for a friend, consider that person's hair style. Large hoops and chandeliers can look great with short hair and up-dos. Someone with longer hair will need a substantial stud earring (think 8mm) for the earrings to be noticeable. Metal choice is also a consideration.
Gold of 14K or higher is slower to tarnish and is more hypo-allergenic than other metals. There will always be those who are allergic to gold, so make sure you have this information when shopping for someone else. While the popularity and allure of platinum cannot be overlooked, it's best to save this precious metal for your rings. Platinum, while very pure, is also very dense. That means that the same volume of platinum will weigh considerably more that the equivalent volume of gold. A pair of platinum earrings should be thought of as high heels for your face: at some point, you are going to need to take them off!
Which type of earrings do you wear the most? Have you found yourself collecting multiples of one particular type? How does your jewelry wardrobe compare with our recommendations? We want to give you thorough information. What do you think of our suggestions?