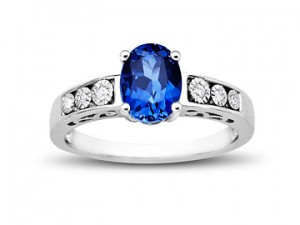 Being hesitant about a gemstone purchase is common if you are new to the market or aren't familiar with the seller.  It is typical to feel wary and unsure before making a potentially large jewelry purchase.  Have you ever wondered what protection you have as a consumer?  And what recourse you have as a gemstone and jewelry buyer in case of a disagreement?  Though there are urban legends surrounding the jewelry industry, there are several systems in place to ensure that the industry remains ethical and transparent.  Continue reading to learn about the different internal organizations within the jewelry industry that demand high standards of their members.  You are encouraged to search these groups to find jewelers and sellers that are highly regarded and monitored within your area.  When you are familiar with each of these organizations and seek them out, you will have added protection when making purchases.
The gemstone and jewelry industry is built on trust, transparency and a general code of ethics.  There are a few self-policing groups that have formed to establish a code of conduct and expectation levels for doing business in the industry.  The main organizations within the industry are:
what is the Jewelers Vigilance Committee?
The Jewelers Vigilance Committee (JVC) is a group that monitors compliance within the industry.  They monitor stores and gemstone dealers and are a wonderful asset for the jewelry buyer.  Check with them to find  jewelers in your area that have joined this organization.  The stores and jewelers you will find listed agree to self-monitor and educate on the ever-changing legal world of the gem and jewelry industry.  They do not provide legal advice, but do offer mediation and arbitration for sellers and buyers, making them an excellent asset for the consumer in times of disagreement with a seller after a sale has been completed.
Should you have an issue with a purchase, the first point of contact should always be with the seller you made the purchase from.  If, after that contact, things have not been resolved, you should know that you could contact the JVC as a buyer and seek assistance.  Additionally, they monitor compliance within the industry.  As a buyer you are welcome to contact the JVC with positive or negative feedback about a particular seller.  You can search their website to find compliant sellers in your area as well as certified appraisers.
What is the American Gem Society?
The American Gem Society (AGS) is an internal non-profit trade group within the industry that requires its members to uphold certain standards and requirements to gain membership.  Ethics and education are keystones to the AGS collective and they offer a broad range of information for the consumer on their website.  AGS members have taken a range of certification tests within the industry to quantify their knowledge of gemstones, jeweler's bench skills, sales, appraisal and design.  AGS members are not allowed to inflate their prices and are only allowed to have a total of two sales a year – eliminating the perception that everything is always marked down.  Stores must maintain good standing to continue membership and must be re-certified every year.
You can search their website to find eligible sellers, buyer tips and information as well as certified appraisers in your area.
What is the American Gemological Trade Association?
The American Gemological Trade Association (AGTA) is a group that was founded specifically around the industry of colored gemstones.  Members agree to uphold ethical standards, maintain transparency, consumer protection and education for the industry and the public.
Additionally, you can rely on the feedback of policing organizations such as the Better Business Bureau (BBB) as well as the guidelines stipulated by the Federal Trade Commission (FTC) if you are looking for additional information on your rights as a consumer.  The BBB covers both the United States and Canada; they provide a central location for business reviews and also offer dispute resolution resources between company and consumer.  You can reach the US site here: http://www.bbb.org/us/
The FTC has specific requirements surrounding the descriptions given to gemstones and jewelry to ensure transparency and a fair and honest market.  They enforce by means of administrative actions through the federal court system.  You can find their regulations here
Do you have a personal story of a gemstone seller or jeweler being transparent and helping you gain confidence through the buying process?  Or maybe a time when you wish you would have had more information going into the transaction?  We'd love to hear your story.  Do you have any personal tips for others new to the gemstone-buying world?  We are here to help answer your questions and make it easier to stay informed.