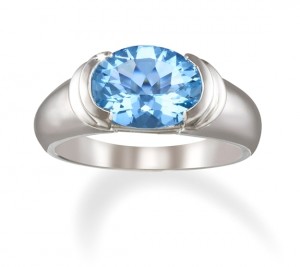 If you have purchased an un-mounted or "loose" gemstone, there are several things you need to know before choosing a setting that will show off your gem to its best advantage. The kind of jewelry metal, the type of setting, even how you choose to wear your gem can greatly alter its visual appearance. Read on to learn about the different types of settings and how they can amplify your gemstone's beauty.
What Type of Gemstone Did You Buy?
This is your first and most important consideration. The type of gemstone that you purchased will have a big impact on the type of jewelry it can best be set in. First you will need to familiarize yourself with the Mohs scale of hardness. Generally speaking, any gemstone with a Mohs scale rating of eight or higher will not pose any significant setting risks. Softer gemstones are another story. Not only can they be difficult to set, they can also be vulnerable when set into pieces of jewelry that are subject to contact with more surfaces. Amethyst, Citrine, Garnet, Sapphire, ruby, and diamond are all durable gems with sufficient hardness to withstand everyday wear. Emeralds, Aquamarines, and Tourmalines are softer and need to be handled with more care. Opals and pearls are very soft. They can easily be damaged in the course of normal wear. Avoid using soft gemstones for rings and bracelets: they will show the negative effects of wear such as diminished luster, chipping, even breaking. Save softer gemstones for earrings and pendants that are not going to come into contact with hard surfaces.
Precious Metal Primer
It is customary to set fine gemstones in precious metal. For the durability and longevity of your gemstone setting, choose karat gold in a fineness of 585 (14 karat) or higher. Gold alloys come in many colors; yellow, white, red, and green gold are available from many jewelers. Silver is a popular and more affordable choice, but sterling silver is not as tarnish resistant as gold. Sterling silver jewelry will need to be maintained with frequent cleaning to remove oxidation, or tarnish. Many anti-tarnish agents can damage gemstones. Make sure you are not setting a gemstone that is vulnerable to anti-tarnish agents in a sterling silver setting. Otherwise, you will have to accept that the look of your gemstone jewelry may change greatly as the metal naturally darkens with exposure to the air. Platinum is a very dense and durable metal, and also one of the most expensive. Although the price of gold per ounce has actually surpassed that of platinum, platinum alloys tend to be more pure, containing higher precious metal content than commercial gold alloys, so the price of platinum jewelry tends to be higher.
What are the different types of Jewelry settings?
Whether you are choosing a ring, pendant, bracelet, or earrings for your gemstone, there are a variety of setting styles that you need to be familiar with. Here, you will find a list of pros and cons regarding different setting techniques so that you can make the best choice for your gemstone setting.
Bezel: Metal surrounds the entire outer dimension of the gemstone.
Advantage: Versatile and secure, bezel settings can accommodate faceted or cabochon gems. When set properly, they rarely require maintenance.
Disadvantage: Bezel settings can make a gemstone look darker than it actually is.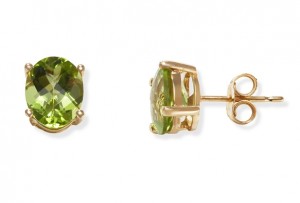 Prong: Thin tines secure the gemstone in a seat. Prong settings usually feature four, six, or eight tines.
Advantage: Usually open on the bottom and the sides, prong settings allow enough light to contact the gemstone, showing their best color.
Disadvantage: Part of the gemstone girdle will be exposed, making it somewhat vulnerable. Prongs can wear down and will often need to be re-tipped, sometimes requiring the removal of the gemstone. Prongs may also snag causing the gemstone to become loose in its setting. Check prong settings frequently and understand that they may need maintenance.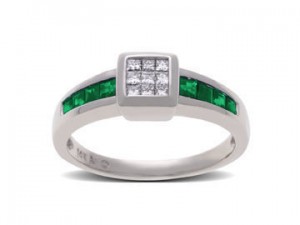 Channel: Stones are set close together with a vertical wall of metal on two sides
Advantage: Since the gemstones are set below the surface of the metal, they are protected. The effect is pleasing, like a ribbon of gemstones with no metal in between settings.
Disadvantage: Not as versatile as prong or bezel settings, channel setting are used primarily for round stones, square, or baguette. Gemstones may appear darker in a channel setting.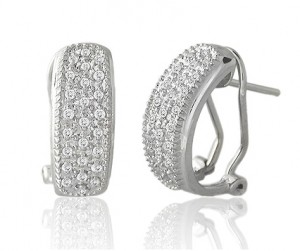 Pavé: Stones are set very close together with very little visible metal in between, giving the appearance that the jewelry is "paved" with gemstones.
Advantage: Pavé settings can create the illusion that many small gemstones are actually a single large gemstone. Frequently used as an accent around an important focal stone, pavé settings have a timeless appeal.
Disadvantage: Usually reserved for very small stones, pavé is not normally done on gemstones of a substantial size.
With all the choices for setting your gemstone explained, what will you choose? Is there a particular setting style that you prize above the others? How will the type of gemstone you own affect your decision on how to have it set? Think about these important questions and share your answers.