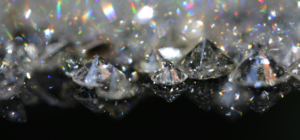 Much of a gemstone's perceived beauty lies in the performance of how light reflects and refracts throughout the stone. Reflection is the amount of light that bounces off the surface of a gemstone and is returned to the eye. This is the "sparkle" of a gemstone. Refraction is how the gemstone bends the light in different directions, separating white light into its spectral colors. This is called dispersion, and is the "fire" of the gemstone. Transparent and translucent gemstones each have their own refractive index, which is a numerical indication of their dispersion. The higher the R.I. of a gemstone, the more dramatic is the dispersion. In addition to reflection and refraction, many gemstones have unique properties that allow them to display amazing special effects with light, adding greatly to their appeal. Nearly all optical phenomena are totally dependent on how the gemstone is cut. Here you will learn about the spectacular special effects that some gemstones are capable of displaying.
What is Chatoyancy?
What are Asterisms?
What is Adularescence?
What is Iridescence?
What is Color change in gemstones?
It's easy to understand how gemstones captivate the eye and capture the imagination. Now that you have a greater understanding about the optical properties of gemstones, has your preference changed? Would you seek out a color change sapphire over a single color sapphire? Semi-precious gems display an exciting range of special effects. Which one is your favorite? Tell us about any special effect gems you may already own.
Read other posts from the Introduction to Gemstones series.