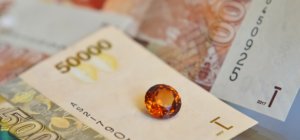 The larger the carat weight of a gemstone, the rarer and consequently more valuable it is. With other factors such as purity and excellence of cut being equal, a larger carat gemstone will price much higher per carat than a smaller one. But today, there is a gemstone criterion that may influence a gemstone's value substantially more than any of the standard measurements and evaluations of grading or carat weight. That certain something is called provenance. And provenance can transform the price of a gemstone from low to high, or from high to stratospheric, proving to be a greater influence than any perceived intrinsic value.
What is the Intrinsic Value of a gemstone?
A gemstone's intrinsic value can be defined as possessing some type of worth in and of itself. The gemstone may not provide a function other than it pleases you, enchants your eye, and draws your attention. If these same factors hold true with a large cultural segment of the population, and gems being in relatively scarce supply when compared to other rocks and minerals, a demand is created. When the optical properties of a gemstone become so enthralling or unique that buyers are willing to compete to own them, the gemstones posses a value all their own, not based on anything but the worth that people attach to them. The intrinsic value of a gemstone can be expressed through an assessment of its quality, its rarity, and what a buyer is likely to pay for it based on historical data of the sale of similar items.
What is Gemstone Provenance?
The concept of provenance in gemstones brings an emotional element to the value that is extremely difficult to quantify in dollars, pounds, or francs. Provenance is defined as the "chronology of ownership" and comes from the French translation of provenir, which means, "to come from." The details of a gemstone's history, its travels, notable owners, and other such verifiable lore can transform even a highly valuable gemstone into something truly extraordinary. In the minds of the buyer, you can guess that they are drawn to the story as much as or perhaps more than the gemstone itself. Recent history provides some remarkable examples of the power of provenance.
how much was The Jewelry of Elizabeth Taylor?
On December 13th 2011 in New York City, the estate jewelry sale of our lifetime took place at legendary auction house, Christie's, where one of the world's most renowned collections of diamond and gemstone jewelry belonging to the late screen actress Elizabeth Taylor was sold. Famed for her beauty, illustrious film career, eight marriages, charitable works, and extensive jewelry collection, Elizabeth Taylor was a true American icon. The sale far exceeded its pre-sale estimate, and all 80 lots sold totaling a collective $115,932,000.00. What, exactly, precipitated such an unprecedented skyrocketing of prices? The answer is both simple and complex: provenance.
The Wandering Pearl
To understand the value that provenance can bring to a gem, look no further than the top sale of the lot, the Cartier necklace containing the 50 carat pearl known as La Peregrina which sold for a record 11.8 million to an anonymous buyer, close to quadruple its pre-sale estimate of 3 million.
Discovered by an African slave in the 16th century who exchanged it for his freedom, the "world's most perfect pearl" belonged to a long succession of Spanish kings after that. In 1558, the pearl was presented to Queen Mary I as a wedding gift from Phillip II of Spain. It remained part of the Spanish crown jewels for 250 years. It was then acquired by Joseph Bonaparte, made King of Spain in 1808 by his brother Napoleon. Joseph, who stepped down from the throne after the defeat of French forces in 1813 during the Peninsular War, bequeathed the pearl to his nephew, Louis Napoleon Bonaparte, also known as Emperor Napoleon III. Emperor Napoleon III sold the pearl to James Hamilton, Duke of Abercorn, and a British conservative politician. La Peregrina remained in the Hamilton family until 1969, when American actor Richard Burton purchased it for his wife, Elizabeth Taylor as a Valentine's Day gift for $37,000. It is the association with explorers, kings and queens, and celebrities that increases the price of a gem from $37,000.00 to $11,800,000.00 over a span of 43 years. That is the power of provenance.
what happened to The Jewels of the Duchess of Windsor?
Prior to the 2011 sale of Elizabeth Taylor's jewelry, the previous record sale of a single collection of jewelry was that of the April 1987 Sotheby's auction of the jewels belonging to the Duchess of Windsor. Wallis Simpson was forty years old and divorced twice before she married Prince Edward, Duke of Windsor. Previously known as King Edward VIII, the Duke of Windsor famously abdicated the English throne in order to marry Simpson, an American. Famed for her role in the love story of the century, the Duchess of Windsor also amassed an impressive personal collection of jewels which went on sale the year following her death. Among the gems was a diamond and black onyx panther bracelet with emerald eyes, which set the record for the highest price paid for a bracelet at auction. And who do you suppose participated as a buyer at that record-breaking auction? None other than Elizabeth Taylor herself! She instructed her husband by phone to make purchases while she lounged by her poolside in Los Angeles.
Where a gem comes from and who previously owned it can impact its price far more that its carat weight or clarity. Would you be more interested in purchasing a gem that had once belonged to someone of note? Share your stories of provenance with us. We are betting there are some amazing untold stories sitting in your jewelry box, and we want to hear about them.
Read other posts from the Introduction to Gemstones series.