Ruby is one of the most famous, colored gemstones. For centuries, this July birthstone captured the imaginations of rulers and monarchs for its unparalleled glowing red color. Today, it is still highly fashionable to own and wear. Thus, it makes for an exquisite birthday present. If you are looking to pick out the perfect ruby jewelry for July birthdays, let us help you select them by following these guidelines.
What is the significance of ruby?
Ruby gets its name from the Latin word 'ruber'. In English, it means 'red'. It is the color of passion and love, our most powerful emotions. It was desired because people believed rubies gave them wisdom, power and wealth. Even today, ruby is prized highly among the upper classes and you'll find famous celebrities such as Emily Blunt and Queen Elizabeth wearing rubies for special occasions.
Let us look through the different varieties of ruby jewelry you can buy.
Ruby Rings
A ruby ring is a dazzling piece of jewelry to own. Whether it's set in cool silver metal or a warmer yellow type, a shimmering ruby ring is a showstopper. Since ruby rings can be steep in price, your decision will be influenced by different factors including the size and number of stones, the cut and the metal. It will also depend on the recipient's preference. Let us see what varieties are available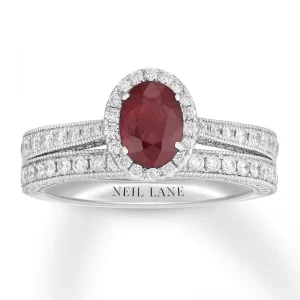 Sterling Silver and Platinum
Sleek silver ruby rings are ideal for those with modern tastes. If your budget is tight, then consider a cool sterling silver ruby ring within an affordable price range between $25 and $200. However, if you want to be open with your purse strings, then your efforts will be rewarded with a platinum ruby ring for under $6500.
White Gold
However, if you want something halfway between cool silver and warm yellow that won't break the bank, then perhaps you'd like these stylish white gold ruby rings. You can buy one for less than $400 or as much as $1200.
Gold, Yellow Gold and Rose Gold
Red and gold is a pairing as old as time. It is ideal for those who like a vintage style of jewelry although they also have a higher price tag. However, be assured that you will find something to meet your requirements.
Let us start with a classic gold ruby ring. They start at $449.99 and can increase in price depending on the stone size, color, cut, clarity, and carat weight. If you want more than one stone or wish to get an intricate design, the price can go as high as $10,000.
If your budget is less than $1,000, then you would be well off with these handsome yellow gold ruby rings or these tantalizing rose gold ruby rings. Sometimes, you can buy them for as little as $150.
Tri-color Gold and Rhodium
Though if you are looking for something truly adventurous, then astound them with a one-of-a-kind tri-color gold ruby ring for around $12000. If you seek something distinctive but have a small budget, then try out this charming rhodium ruby ring.
Ruby Earrings
A pair of ruby earrings will always attract admiring looks. The question is: what are you in the market to buy?
If price is your main concern, then check out a snazzy pair of sterling silver ruby earrings. Their minimum price starts at $30. Similarly, you might purchase elegant white gold earrings anywhere from $160 to $800 or be interested in these alluring rose gold ruby earrings for less than $700.
However, if you prefer a warmer metal type, then you'll be better off with an alluring pair of yellow gold ruby earrings for between $60 and $150.
If you are willing to spend any amount to stun your intended recipient, then you are certainly about to hit the jackpot. These divine gold ruby earrings cost between $900 and $1600, while a luxurious pair of two-tone gold ruby earrings only cost approximately 1200.
Ruby Neckwear
Ruby necklaces have adorned many necks, from Elizabeth Taylor to Queen Elizabeth II. They are universally beloved because they make anyone who wears them look like royalty and add flair to an outfit.
Furthermore, they won't break your bank. You can find a ravishing ruby necklace in sterling silver or rose gold for under $100. Likewise, you will find a variety of striking necklaces in white gold, gold and yellow gold for under $1,000.
Ruby Bracelets and anklets
If you want to gift something refreshingly different, you might want to get a ruby bracelet. Are you looking for a sterling silver ruby bracelet ($80-$300)? How do you feel about a yellow gold ruby bracelet ($319.99-$2,000)?
Alternatively, perhaps you think they might appreciate anklets. Then be sure to check out this darling sterling silver ruby anklet for $120.
Whatever you pick, any of these would be an ideal gift for someone you care about a lot.
What does it mean to give ruby jewelry?
Having looked at some of the ruby jewelry available, it's time to think about what you want to buy and the recipient.
If you are buying something for your mother or a close relative, you could gift them a magnificent pair of ruby earrings or a precious ruby necklace. They will be thrilled to wear it when they go out for an event or occasion.
What if you want to buy a present for your best friend? Think about an elegant ruby bracelet or anklets. They're classy and are available at affordable prices.
Perhaps it's for your partner. If you have been dating for under two years, check out a graceful pair of ruby earrings or a ruby bracelet. If it's your significant other, then you might be more interested in a mesmerizing ruby necklace to wear on special occasions. You can also check out an exquisite ruby ring, especially if you are thinking about asking them to marry you.
Traditionally, ruby is given for 15th and 40th wedding anniversaries. If you happen to be planning to buy something for a couple celebrating one of these milestones, then a gift of ruby jewelry would be deeply appreciated and highly thoughtful.
How much to budget for ruby jewelry?
Given ruby's rarity, these are one of the more expensive gemstones available. While you can certainly find something for under $100, you should be prepared to have a significant budget of $1000 or more when you go shopping. There are plenty of choices. If you know what your recipient likes, it will be easier to select your gift.
What to think about when buying ruby jewelry?
Ruby will easily complement any color. If your recipient likes to wear neutral colors like tan, gold and white, this fashion preference will enhance the effect of ruby jewelry. Also, they go well with cool colors such as purples, greens and blues that draw out the gem's rich color.
Naturally elegant, ruby is perfect to wear for special occasions such as a wedding. It also adds a dash of bold color when worn to a casual event.
Think about their fashion style to help you decide what jewelry accessory they'd like best. What do they prefer to wear? Are their tastes more modern or vintage? If you buy something along the lines of what they own already, you will never go wrong.
Is ruby jewelry worth the price?
With all that in mind, should you go ahead and buy some ruby jewelry? Absolutely! Everyone should own a ruby. They are magnificent and extremely valuable. Even though it is the July birthstone, you can buy it for those celebrating birthdays in other months. If you choose to buy such a gift, it is a sign of how much you appreciate that person that you wanted to make their birthday present truly memorable. To give jewelry to anyone is a gesture of love and to gift ruby jewelry will say so better than words ever can.