Planning the special moment when you propose to the love of your life might be stressful or scary. But buying an engagement ring should not be. If you want to give something valuable and meaningful to that special someone, we can help you figure out which engagement ring to buy. Choose one that works for both of you and helps you stay within your budget.
What are the types of engagement rings?
You can choose from many types of engagement rings such as diamond rings, colored gemstone rings, and Claddagh engagement rings (from Ireland). This latter is full of meaning with the design having a hand, heart and crown, which represents friendship, love, and royalty.
You will find many different settings and styles of rings. You can even choose from a variety of ring types from many other countries. Be spoiled for choice when you look for your perfect ring. Also, don't forget: You can use that family heirloom too! Your grandmother's ring can be perfect as it is, or you can set it in a new design to combine the old and the new. The choices are limitless.
WHat to know when buying an engagement ring
If you decide to buy a new ring, there are a few things to know before you shop. Firstly, there are many options and you should not believe only a diamond ring will be right. Secondly, you must know what to look for and be prepared. That way, you can make a better choice when you see the fantastic jewelry up close.
Thirdly, don't get lost in the specifications of the stone. It is important to consider but don't forget to match the lifestyle and preferences of the person wearing it. If they are very active, it might not be the best choice to have multiple small stones in a ring that is hard to clean. Finally, do pay attention to the setting and style, and understand how to find the gem that works for both of you. We will go through each point below.
What are colored gemstone ENgagement rings?
If you want to forego the usual diamond engagement ring, you have a great option in colored gemstone engagement rings. Many people, including royalty and celebrities, opt for these rings. They choose these for two main reasons: First, to distinguish their rings from the diamond rings and second, because of the beauty and the meaning behind these colored gemstones.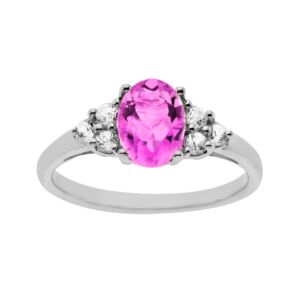 These rings are, more often than not, less expensive than diamond rings, so you get great value for money too.
Sapphire engagement rings
The sapphire is an extremely rare gem. It is found in only a few regions such as Sri Lanka, Cambodia, Australia, Kenya, Mozambique, and Montana. It is extremely durable, scoring a 9 on the Mohs scale. That score is only behind the diamond that is at 10. Sapphires will last the test of time, just like your love will. Sapphire engagement rings are a true classic. These rings can be found in many colors such as green, yellow, and pink. However, it is the blue sapphire that holds the world's attention.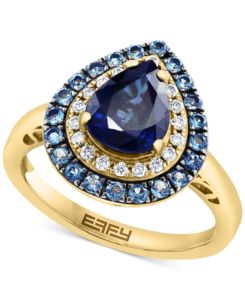 The sapphire is the birthstone for September. It symbolizes royalty, wisdom, and devotion. What better way to start a life together than by making your beloved feel like royalty and by showing your devotion?
How to find the right sapphire engagement ring
Diamonds are measured through cut, carat, color, and clarity. Sapphires are measured through their natural richness of color and sparkle. You don't need to look for untreated, natural dark blue sapphires. They will most likely be heat-treated, but this does not affect the quality so don't let it bother you. A sapphire's best feature is how well it goes with any of the metals you choose for the ring. The stone's rich color sits well in any setting, and your sapphire engagement ring will be a treasured piece of jewelry from now till eternity.
If you are looking for more colored gemstone engagement rings, the ruby, blue topaz, green emerald, purple amethyst, and pink tourmaline are other stones you can use.

What to remember when choosing a sapphire engagement ring
If you are interested in purchasing a sapphire engagement ring, look through this article on sapphires for more information on the gem's history, qualities, and locations. They might help you decide which works best for you.
Your choice of setting and metal will affect your budget as well as the overall beauty of the ring. Prioritize these two considerations when buying a sapphire engagement ring.
What setting works best for an engagement ring?
Focus on a setting that matches the person wearing the engagement ring. You should get one that matches their lifestyle and fashion choices. You might want to enlist the help of their family and friends to make sure you are choosing the right ring. Choose from many setting styles, such as the halo, prong, channel, invisible, pavé and micro-pavé, or a bezel setting. All of these will give a different feel to the ring.
This choice is up to you and your beloved (with input from their loved ones). But, read more about the effect of the setting in this article before you decide.
What metal works best for a SAPPHIRE engagement ring?
Another thing to focus on is the metal you use for the ring. Do you want white gold, yellow gold, or rose gold for a sapphire engagement ring? Each will subtly change the ring you choose and how it will look on your beloved's finger.
If you are choosing a sapphire engagement ring, think of how the metal will enhance or mute the color of the gem. You can also opt for a two-toned look, where you combine two different colors in one ring. Just remember, these decisions will affect the price, so choose one that fits your budget. Read more about the metals to understand which choice to make.
The aesthetics to aim for in a sapphire engagement ring
The setting and the metal are of vital importance, but they are not the only things to consider. Don't forget to also take into consideration the wearer's fingers (length, width, and whether their nails are kept long or short) because that too changes how the ring sits on their finger.
You should aim to choose the right combination that will make their fingers look gorgeous and the ring shine. Talk to the jeweler to figure out how to find the right fit. Your beloved will adore your choice and you.
How much should you spend on a sapphire engagement ring?
Setting a budget is the most important thing you should do. Don't get so lost in the process that you overspend.
Understand your financial situation first. Look on the internet for some prices at different jewelers and see what you can realistically afford. You don't want to start your new life with debts hanging over you. All of this should be done with a final budget in mind, and having a budget will help you make better choices that lead to a happier you.
Whatever you choose, do your homework first. Find out all you can about the sapphire engagement ring you want, compare among a few places, and see if it is within your budget before you go shopping. Good luck!