In the history of colored gemstones, tanzanite is the new kid on the block. Found in the 1960s, these enchanting blue stones were one of the most exciting gem discoveries in the 20th century. In only a short time, it was the second most popular blue gem after sapphire  (If you a looking for a blue stone – you may want to compare them both). Tanzanite gets its value from its velvety rich blue color. So, if you want to buy a unique birthday present for someone born in December, read on to learn how to buy tanzanite birthstone jewelry for December birthdays.
What is the significance of the December birthstone?
Tanzanite is found only in Tanzania; that is from where it gets its name. Workers excavate this gem from a rocky landscape in and around the Merelani Hills, digging mines that go down 100 meters (over 300 feet) into the earth.
From the start, tanzanite had instant appeal. Its vivid deep saturated colors of pure rich blue to violet made it irresistible. In 1968, Tiffany & Co. saw its potential: In a little over fifty years, it became an international sensation. In 2002, tanzanite was made the December birthstone. It is also the gem given for the 24th wedding anniversary.
Why tanzanite?
Tanzanite is prized for its vibrant color. Gems with lighter tones are usually more available. Even though they are more affordable than vivid color stones, these lighter stones have a distinct appeal of their own. So don't rule them out in your plans.
What's more, celebrities love tanzanite. Actresses such as Anne Hathaway, Cate Blanchett and Sarah Jessica Parker love to wear them to gala events. Those born in December are lucky to have tanzanite as their birthstone. If you know someone celebrating a December birthday, buy them jewelry with their birthstone.
What does it mean to buy tanzanite jewelry as a birthday Gift?
What you want to say through your gift depends on what you buy.
Perhaps it's your mother's or a close family relative's birthday. You can show them your appreciation with a tanzanite necklace or a pair of tanzanite earrings.
Is it for your partner's birthday? You can't go wrong with a simple yet elegant pair of tanzanite earrings. If it's your spouse and the birthday is a special milestone, then redouble your commitment and love with a classic tanzanite necklace that they will love. When it's for a close  friend, think about a tanzanite bracelet. Carve their favorite quote on the inside of the bracelet or with an inscription that is deeply meaningful to both of you. That said,  sometimes your busy lives prevent you from spending more time together or you don't live nearby as you did before, then a tanzanite bracelet will be a symbol of your close friendship: To keep on prioritizing each other no matter where you are.
If you know what your intention is behind your gesture, you will find that the rest follows easily.
Let us look at the types of tanzanite jewelry that you can buy.
What are the types of tanzanite jewelry to buy?
Tanzanite Earrings
Tanzanite is best suited for earrings. Its deep saturated blue goes well with any metal type. Therefore, your choice will depend on what type of earrings your recipient would like and how much you are prepared to spend.
For under $600, you can buy a pair of pleasing white gold tanzanite earrings or a pair of graceful rose gold tanzanite earrings. At the same time, think about a pair of sparkling sterling silver tanzanite earrings. Not only is it affordable, but it will also look great on the person wearing it.
However, if you want something incredible in silver metal, then you must check out a pair of mesmerizing platinum tanzanite earrings. Even though it comes with a price tag of $17,558, it is worth every cent.
If you increase your budget to $1,200-$4,000, you can think about gold earrings. After all, blue paired with gold is a combination as old as time. Therefore, how about a pair of magnetic yellow gold tanzanite earrings ($857-$1,091) or a pair of splendid gold tanzanite earrings ($1,120-$4,000)? Else, you can also try a pair of alluring two-tone tanzanite earrings for $3,798.
Tanzanite Neckwear
Tanzanite necklaces add flair and color to any outfit. For under $500, look at a lustrous sterling silver tanzanite necklace ($144-$200). The same applies to a precious white gold tanzanite necklace ($240-$480). However, if you prefer a warmer metal but you have a tight budget, then you want a delicious rose gold necklace ($144-$300).
But if your budget is between $1,000 and $3,400, you might be interested in an exquisite gold tanzanite necklace. It only costs between $950 and $3,360, while an equally lovely intriguing yellow gold tanzanite necklace costs between $700 and $1,002.  However, the real crown jewel is a magnificent platinum tanzanite necklace. For around $16,000, it is a stunning jewelry item that anyone would love to wear.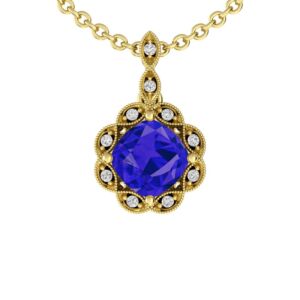 Tanzanite Rings
While tanzanite rings are exceptionally beautiful, they are better suited for dress wear than daily wear. Consider this option if your recipient likes to wear rings when attending functions or social events.
You will find diverse options depending on your requirements. For instance, a luxurious platinum tanzanite ring costs $16,000. But a divine gold tanzanite ring can cost anywhere between $750 and $37,900. The same goes for a queenly two-tone gold tanzanite ring, costing a pretty $3,158.
A darling sterling silver tanzanite ring costs between $104 and $592. If your recipient prefers cooler metals without being outright silver, then they will appreciate a luscious white gold tanzanite ring ($360-$2,720). If they like rings in warmer metals, you are in luck! Take a look at a tantalizing rose gold tanzanite ring for between $140 and $1,240 or a fascinating yellow gold tanzanite ring for between $280 and $1,309.
Tanzanite bracelets
Tanzanite bracelets are also a suitable option for formal wear than daily wear. Think about a compelling yellow gold tanzanite bracelet. It is sumptuous and only costs $1,503 or $2,576.
Now that you know more about the different types of tanzanite jewelry available, let's look at the other factors to bear in mind when you go shopping.
What factors to think about when buying tanzanite jewelry?
Depending on what you get, tanzanite jewelry can be worn for different occasions. Tanzanite rings will go with any outfit and would be best suited for gala dinners. Tanzanite bracelets are ideal when worn with sleeveless or short-sleeved attire, especially if they are worn alone. Tanzanite earrings are a little trickier; simple and elegant earrings are best for formal wear while intricately designed earrings are better for a social or informal occasion.
You can experiment with different colors when wearing tanzanite jewelry. It will complement black, grey, white, blue, navy and yellow attire. If they have blue eyes, then tanzanite will match perfectly.
What affects the price of tanzanite?
The cost of tanzanite jewelry depends on color, cut, clarity and carat. For example, a big deep blue gem with excellent clarity and a perfect cut will be more expensive than lighter tanzanite stones.
Furthermore, the price can vary due to its limited supply. Since tanzanite only comes from one country, it does not enjoy the price insulation that other gems have and depends on factors such as decisions taken by the Tanzanian government, mining difficulties or natural disasters such as floods. Therefore, it's always a good idea to own tanzanite jewelry while it is still available.
Is tanzanite jewelry worth 'investing' in?
Definitely. You can buy something that meets your needs and at the budget that you set. Like all jewelry, it will take time to figure out the perfect birthday gift. But your efforts will be rewarded when they see what you have picked out for them. Buying jewelry is seen as a thoughtful gesture and an act of love. If you pay attention to the kind of jewelry they already wear, you'll be on the right track to buying them what they will enjoy. It ranks 6 to 7 on the Mohs scale of hardness.
Some say that tanzanite values will shoot up when the last deposits are exhausted but nobody knows. But that uncertainty doesn't mean you shouldn't think about tanzanite jewelry. It's absolutely lovely and anyone would love to wear this December birthstone when they dress up and go out.
That's why they make such a wonderful birthday gift. Now that you know all you need to know about tanzanite jewelry, it's time to take the next step and buy what you require to make their December birthday one that they will remember for years to come.