Since the beginning of time, the opal has captured imaginations. Its shifting rainbow colors can be compared to fireworks or galaxies in a stone. Resplendent, it is a glamorous birthday gift to give someone who was born in October. So, if you want to learn how to buy opal jewelry for October birthdays, let us help you make the perfect choice with these guidelines.
What makes the opal so special?
Legend has it that the name of the October birthstone was coined in India. In Sanskrit, it was called 'Upala' which translates to 'precious stone' for its kaleidoscopic colors. The Ancient Romans called it 'opalus'. The Bedouins believed that the opal held lightning that fell to earth during a thunderstorm. For hundreds of years, opal was believed to symbolize all the powers and virtues of colored stones. If you peer into this gem, it can feel like you are peering through a secret window into the beating heart of the universe.
Today, opal is highly prized for its novel beauty. At high-profile events, celebrities such as Adele, Taylor Swift and Bryce Dallas Howard have been seen sporting astounding opal jewelry. In addition to being the October birthstone, it is the gem given to celebrate 14th wedding anniversaries.
Let us take a look at the most popular types of opal jewelry available.
What are the types of opal jewelry you can buy?
Opal bracelets
Opal bracelets are great for wearing to special functions and they would make a nice gift for your mother or a family relative. It is also ideal to give your best friend, especially if your hectic lives means you don't get to spend as much time together as you used to. An opal bracelet can close the gap, a reminder that even if you live far away, you keep them close in your heart.
If you want something in silver, you can buy a fascinating sterling silver opal bracelet. It costs between $90 and $800. However, if you prefer warmer metal colors, your options open up. For instance, a charming yellow gold opal bracelet costs as little as $100. If you are ready to spend as much as $1,000, you can buy a mesmerizing rose gold opal bracelet for $800 or a divine gold opal bracelet for $1,000.
Opal earrings
Opal earrings are a nice touch for formal occasions or daily wear. Whether you gift it to a spouse, a partner, a friend or a family member, they will appreciate it.  Generally, If you want earrings set in silver metal, prepare a budget between $50 and $750 (based on the type of Opal, metal etc.). A pair of precious sterling silver opal earrings will cost you between $40 and $400. On the other hand, a pair of magnetic white gold opal earrings will cost you between $350 and $750.
If you prefer warmer metals, you might need a bigger budget. For instance, while you can find a pair of intriguing yellow gold opal earrings for between $64 and $720, a pair of charming rose gold opal earrings will cost you between $200 and $600. However, if you have the money to spend, then you will love a pair of exquisite gold opal earrings. Your recipient will, too. For between $850 and $5,000, it is fully worth the price.
Opal neckwear
Opal necklaces are highly fashionable. The following price ranges are what you can expect when shopping online (note – we exclude the top 1% given the significant variability)
Let's start with an alluring sterling silver opal necklace. It's affordable yet striking and it comes with a price tag between $30 and $240. The same goes for a luminous yellow gold opal necklace for between $70 and $600.
Do you have a budget of under $800? Then you will like a luscious white gold opal necklace for between $300 and $650. Similarly, a graceful rose gold opal necklace for between $150 and $750 would look lovely on anyone.
However, if you want to make it in gold, you simply have to buy a luxurious gold opal necklace. It only costs between $400 and $26,360, and it will turn heads when people see it.  Therefore, ask yourself: Who is this gift for, and how much do I want to spend?
Opal rings
An opal ring is classy. If you're thinking about proposing to your partner on their birthday, you should consider an opal engagement ring. However, it is also a great birthday present for anybody who enjoys wearing jewelry on their fingers.
So, let's dive into the different types of opal rings you will find.
If you are concerned about price, here's the good news: Most opal rings will cost you around $100. You will find a sparkling sterling silver opal ring for between $32 and $160. At the same time, you can buy a compelling rose gold opal ring for between $90 and $800. If you want something different, why not try out a touchable plated metal opal ring for around $150?
However, if you can increase your budget, you will have many options. If your recipient likes chic jewelry, they will adore a tantalizing white gold opal ring ($540-$720). On the other hand, if you want a classic gold ring, you will be spoiled for choice. For between $150 and $800, would you prefer a splendid yellow gold opal ring? Or for between $1,040 and $10,558, would you rather buy a magnificent gold opal ring?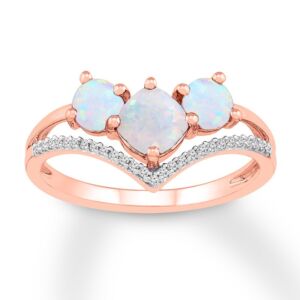 Now that you know what is available, let us walk you through a few more tips on what to think about when making your final decision.
What factors to think about when buying opal jewelry?
It pays to do your research ahead of time. Think about what kind of jewelry your recipient likes to wear. Everyone has different tastes and preferences. Buying jewelry usually requires putting a lot of thought into the selection. But buying opal jewelry needs more finesse. It's similar to buying art. Every stone is different, every stone appeals to different people differently. It's not about right or wrong: You need to pick what will appeal to the recipient. But if you take the trouble to do your homework, you will be rewarded by their delight when they open your present.
Opal jewelry can add flair and color to brighten up your recipient's wardrobe. They are best worn for special functions or events, especially opal rings which are sensitive to scratching. Opal jewelry will complement an attire or it can enhance it through contrasting.
What affects the cost of opal?
The price of an opal depends largely on a quality factor known as play-of-color. This refers to the unique flashing of rainbow colors that makes opal so enchanting. The more vivid the play-of-color, the higher the price. Along with other colored gems, it is also dependent on the clarity, cut and carat.
Opal ranks from 5 to 6.5 on the Mohs scale of hardness. It is vulnerable to scratching from harder gems such as diamonds and emeralds, so be sure to let your recipient know to store opal jewelry by itself.
Why should you give opal jewelry as a birthday present?
Opal is a gorgeous gem. It stands out from the crowd for its distinctive shifting colors and makes for eye-catching jewelry. Should you buy opal jewelry? The answer is a resounding yes! You can pick from white opal, black opal, fire opal, or boulder opal. It depends on your recipient's preferences and how much you are prepared to spend. If this person means a lot to you, then show them on their birthday just how much you care about them with a gift of opal jewelry. They will remember you every time they take it out to wear.