Out of all the quartz in the world, amethyst is one of the most popular birthstones. It is prized greatly for its shimmering shades of purple, the color of royalty. Glamorous and trendy, it makes for a perfect gift for someone born in February. Therefore, let us walk you through these guidelines on how to buy the best amethyst jewelry for February birthdays.
What makes amethyst special?
There used to be a time when only wealthy families or members of royalty could afford this February birthstone. It used to be as expensive as ruby and emerald. However, after the 19th century, large deposits of amethyst were discovered in Brazil. Due to the supply, amethyst became affordable. But even today, it is still highly desirable.
Many legends surround this purple stone. Some believe it gives the wearer inner strength, especially to those born in February. Traditionally, amethyst is given for sixth wedding anniversaries. Its purple color is unrivalled and enhances the beauty of any piece of jewelry.
The question you need to ask when shopping for amethyst jewelry is: What are you looking to buy?
Amethyst bracelets
Bracelets are classy. They are a great gift to give anyone. Thus, an amethyst bracelet would be ideal for your best friend, your mother or someone you have been dating for nearly a year. Moreover, an amethyst bracelet is affordable. It will not break the bank.
If your recipient likes silver metal jewelry, then they will love a shapely sterling silver amethyst bracelet. It costs between $50 and $800 and there are different shapes and designs to pick and choose from. Meanwhile, if you open your purse, perhaps you can astonish the person with an $800 lustrous white gold amethyst bracelet.
An alluring yellow gold amethyst bracelet will cost you between $450 and $1,937, while a queenly gold amethyst bracelet costs between $900 and $1,250 and a divine rose gold amethyst bracelet only costs $1,100. These options are ideal if the intended person likes to wear jewelry with a vintage style.
Whatever you select, you can be assured: The wearer will feel like royalty.
Amethyst rings
If someone enjoys wearing jewelry on their fingers, then they would appreciate an amethyst ring. It also makes for an attractive engagement ring. Thus, if you plan to get down on one knee and propose to the love of your life on their birthday, an amethyst engagement ring would certainly make them want to say, "I do".
Better yet, there's a range of different designs and types to suit anyone, for the price that you are prepared to pay. Let us take a walk through the options.
If your budget is no more than $400, then check out a graceful sterling silver amethyst ring for as little as $40 and as high as $400. For a similar budget, you can buy a pleasing amethyst ring in rhodium ($104 and $360).
However, are you prepared to spend up to $1,000? If yes, you will be rewarded with a treasure trove of possibilities. For between $300 and $800, dazzle your recipient with a tantalizing white gold amethyst ring. You will have the same impact with a luscious rose gold amethyst ring and it only costs between $120 and $1,040.
Purple and gold is a great color combination. If the person you are buying this for loves warmer metals, then check out an exquisite gold amethyst ring ($450-$10,000). Likewise, for under $1,200, a precious yellow gold amethyst ring is a match made in heaven. The same goes for an enthralling two-tone gold amethyst ring. It will only cost you approximately $2500.
Amethyst earrings
Does your recipient prefer to wear jewelry on their ears? Then you'll be pleased to know that a pair of amethyst earrings would be a dashing present to wear with any outfit. They are suitable for your partner, a spouse, a friend or your mother. You'll score double points if purple is their favorite color.
Amethyst earrings tend to be affordable. For under $400, check out a pair of sparkling sterling silver amethyst earrings or a pair of charming white gold amethyst earrings.
For under $1,000, you will discover that a pair of intriguing rose gold amethyst earrings is more their type. Within the same price range, you can also buy a pair of classic yellow gold amethyst earrings.
However, if you want to draw out amethyst's purple color strongly, you must buy a pair of luxurious gold amethyst earrings. It starts at $650 and can climb as high as $5,000. But it will make the wearer look and feel like royalty. You cannot put a price tag on that.
Additionally, what type of earrings do they like? Does your recipient prefer stud earrings or drop earrings? Or do they like cluster earrings or jacket earrings? If you know the answers to these questions beforehand, it will help you decide what type of amethyst earrings will be perfect.
Amethyst necklaces
It is hard to find a more attractive type of jewelry than an amethyst necklace. What do they like? A collar necklace? A necklace chain? Perhaps they prefer a matinee necklace or a rivière necklace. Whatever you select, purple amethyst in a necklace will make anyone look resplendent.
For a budget of $400, you will be pleased with a delightful sterling silver amethyst necklace. The lowest price is $36, yet is still impressive. If your recipient has a taste for unique jewelry, then be sure to look at a captivating $45 plated metal amethyst necklace. The same applies to a fascinating $80 rhodium amethyst necklace. Both share a distinctive flair at an affordable price.
However, your options improve if you are ready to spend more.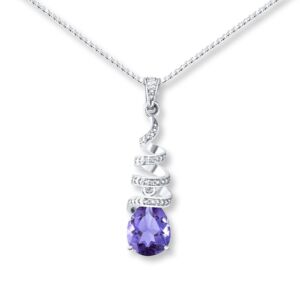 Make your recipient gasp with a splendid white gold amethyst necklace for between $240 and $720. They will also be astonished by an heirloom-quality rose gold amethyst necklace. These beauties cost between $80 and $640. For a similar price, check out a magnetic gold amethyst necklace. They cost as little as $68 and $720 at most.
However, perhaps this birthday gift is for someone truly special. You want to make a grand gesture. In that case, feast your five senses on a magnificent gold amethyst necklace. For between $720 and $8,638, this would show how much they mean to you more than words can convey.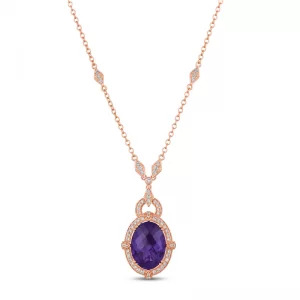 If none of the above is to your liking, then you might like a darling sterling silver amethyst anklet. They are unique, they look great and they come at an affordable price of $64 or $80. They are a great bargain.

You can be assured: Whatever you pick, your recipient will love you for it.
What factors should you pay attention to when buying amethyst jewelry?
Amethyst jewelry is extremely fashionable. Its striking purple color pairs perfectly with warm color attire such as yellow, red and orange. It also goes with neutral outfits or black. It is sophisticated to wear on formal occasions but also appropriate to wear when going out with friends or on a date.
When shopping for jewelry, pay attention to the kind of jewelry your recipient likes to wear. This should give you an idea about what to buy and help you make an informed decision.
What affects the price of amethyst?
The cost of amethyst will depend largely on its color. Other factors that will affect it are clarity, carat weight and the jewelry design. Amethyst ranks 7 on the Mohs scale, so if treated with the proper care, it can withstand daily use in rings and other jewelry. However, it might require polishing after some time.
Why should you buy amethyst jewelry as a birthday present?
If your recipient loves the color purple, then they will absolutely adore amethyst jewelry. Because it is suitable for any occasion, it makes for a thoughtful and wonderful birthday present. If they already own amethyst jewelry, they will be delighted to add your gift to the collection. If they don't, then they will be grateful for helping them start to build it. Just as members of the monarchy across the world once felt powerful wearing amethyst, make them feel like royalty on their birthday in February with a gift of amethyst jewelry. They will always remember it.