Pearl is one of the June birthstones and is associated with innocence and purity. Legends claimed that it had beneficial properties. Ancient Sanskrit texts believed it granted long life while Arab physicians in the 19th century insisted that powdered pearl improved eyesight. But what is certain is that this gem is extraordinary. Its classy appearance might be why pearls were given as a traditional wedding gift. But it also makes for a perfect birthday present for anyone who loves pearls or has always wanted to own one. Let us look at how to buy the best pearl jewelry for June birthdays.
Where do pearls come from? 
Pearls are treasures originally gifted by the waters of the world. Found in oceans, rivers and lakes, it has captured our imagination throughout history. The Chinese believed pearls came from the brains of a dragon. The ancients from the Middle East fancied they were teardrops that fell from heaven. It has been a timeless staple in jewelry, adored by many across nations.
There are two types of pearl. Natural pearls grow inside the tissue of a living freshwater or saltwater mollusk. This could be a mussel or an oyster. If a grain of sand or parasite invades its shell, the mollusk releases a substance called nacre that surrounds this irritant and creates the pearl. As a result, natural pearls are incredibly rare.
However, excessive pearl fishing has destroyed most natural pearl beds. Hence, humans developed pearl farms to harvest cultured pearls. It uses science and human techniques to grow pearls in a controlled environment. Today, cultured pearls account for a large percentage of global pearl sales. They are as captivating as natural pearls.
What makes pearls special?
Who can forget the iconic image of Audrey Hepburn in a svelte black dress and strings of pearl adorning her neck in "Breakfast at Tiffany's"? Indeed, Audrey Hepburn even wore pearl jewelry when she wasn't in front of the camera. Thanks to her, pearls gained new life in fashion during the 1960s. Similarly, First Lady Michelle Obama also gave them a boosted life when she often wore long pearl strings with her modest outfits.
What types of pearl jewelry ARE available?
Pearl bracelets
Pearl bracelets are fashionable. They are great for a best friend, a parent or a family member you are close to. They are ideal if your budget caps off at $1,300.
Is your budget between $60 and $400? Then check out a graceful sterling silver pearl bracelet. Similarly, if you are only prepared to spend between $32 and $640, then you might like an enthralling yellow gold pearl bracelet instead.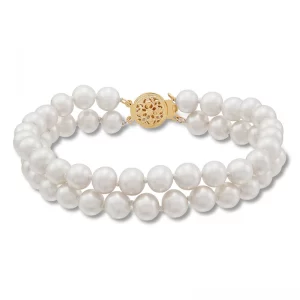 Pearl earrings
Does your recipient like to wear jewelry on their ears? Then surprise them with a pair of unblemished pearl earrings.  They come in a range of styles. Whether you are looking for stud earrings or drop earrings, you will find that pearls make the best gems for earrings.
Let's start with silver color metals. Silver pairs well with flawless pearls. If you are prepared to spend between $50 and $700, you will like to buy a pleasing pair of sterling silver earrings or a tantalizing pair of white gold pearl earrings.
Or perhaps they like warmer metals instead. For between $32 and $800, you would enjoy a pair of precious yellow gold pearl earrings. Similarly, a mesmerizing pair of rose gold pearl earrings would cost you only between $120 and $360.
But if you want something that is out of this world, then what you seek is an exquisite pair of gold pearl earrings. For between $720 and $3,000, you will find that it is worth every cent.
Pearl rings
A pearl ring would make an exciting birthday present for a partner or even your spouse. It's also appropriate for your mother or a close family member, especially if they like to wear rings as part of their accessories.
If you want to spend between $30 and $400, try out a luscious sterling silver pearl ring or a compelling white gold pearl ring. Both are great choices especially if your recipient likes minimalist jewelry.
But if you have a bigger budget, you'll want to look at a delicious rose gold pearl ring. It costs a minimum of $105 and a maximum of $640. The same goes for a queenly yellow gold ring. For as little as $104 but only as high as $538, it would look beautiful dazzling on their finger. However, if you are prepared to spend as much as $4,000, a luxurious gold pearl ring would be fit for royalty.
Remember: If you are considering proposing to your partner on their birthday, then you'll certainly get a positive response if you pop the question with a pearl engagement ring.
Pearl neckwear
Pearl necklaces are marvelous. Subtle yet brilliant, they can be worn for formal events, corporate events or romantic date nights. Better still, you will find something to fit your budget.
A fascinating sterling silver pearl necklace costs between $50 and $400. For a similar price range, you can buy a sparkling rose gold pearl necklace or a more unusual yet just as lustrous rhodium pearl necklace for approx. $150.
For between $200 and $700, you will like a classic yellow gold pearl necklace. If you are prepared to spend more, then you might find an heirloom-quality white gold pearl necklace to be your type.
However, if you intend to spend $2,000, feast you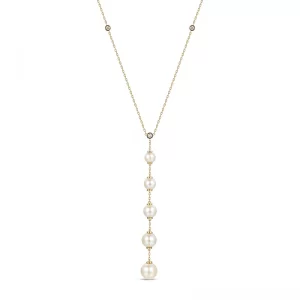 r eyes on a magnificent gold pearl necklace. When your recipient opens the box, be prepared: They might be too stunned to speak for some time.
Other types of pearl jewelry
However, what if you can only afford to spend $200 at most? Or you want to give a present to a friend but you think the other options might not be suitable? You are in luck! Buy a charming sterling silver pearl anklet for $80. Or consider intriguing sterling silver pearl beads for between $100 and $200 or alluring yellow gold pearl beads for under $50.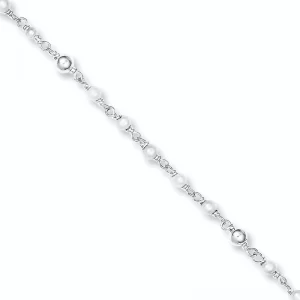 Rest easy: Whatever type of pearl jewelry you buy, you will always go right if you do your research and your intentions are genuine and sincere.
What affects the cost of pearl jewelry?
When it comes to cost, pearls are valued by their size, shape, color, surface quality, luster, nacre quality, and matching. Generally, larger pearls are more valuable. Likewise, certain shapes of pearls will cost more than others. For instance, oval or well-formed pear pearls are prized highly. But luster might be the factor that affects the price the most. This is what gives a pearl its loveliness.
Therefore, when you go shopping, keep in mind that different pearls will have different prices. Ultimately, it boils down to what you are prepared to pay for a birthday present. After all, you do want your full money's worth.
What should you pay attention to when buying pearl jewelry?
When you are shopping for jewelry, there are a few things you should keep in mind.
Firstly, think about what kind of jewelry they like. Some enjoy minimalistic jewelry. Others prefer vintage styles. Some like silver, others like warmer metals such as gold. If you pay attention to the jewelry they already wear, you will be on the right track almost at once.
Think about their fashion styles. Pearl jewelry pairs with green and deep blue or aqua outfits. It also goes well with stormy gray attire.
The type of pearl matters too. For those who run a business, perfectly round pearls are sophisticated and stylish in a corporate environment. For cocktail parties or classy events, long pearl necklaces will catch the eye of every person in the room, especially if mixed with other gems such as tourmaline, garnet or topaz.
Why should you give pearl jewelry as a present?
Pearl is ranked 2.5 on the Mohs hardness scale. Although soft, it can last a long time if it is looked after with the proper care. These creamy-colored stones are highly desirable and make for wonderful jewelry. As birthstones increase in popularity, they would make a unique birthday present.
The good news is that pearl jewelry is available at different prices. So, you can be guaranteed to find something, whether you spend $100 or $1,000. In the end, what matters is your intentions behind the gift.
Pearl jewelry will always be in vogue. It might take time to figure out what to get. But if you have the money and you want to buy a special present for someone who was born in June, then buy them pearl jewelry. They will remember the effort you put into buying it for many years to come.