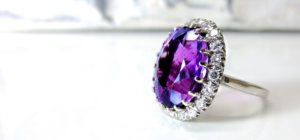 Custom jewelry is an exciting world, where a one of a kind piece of jewelry can be created for a specific customer.  Is there a piece of jewelry you've always wanted?  Have you ever wondered how a custom piece of jewelry is made?  Do you know the steps involved and how much time can it take?  This article will tell the story of a ring being created, from the sketch being drawn to the ring being slipped on a finger.
Step 1 – The Design
The first step is to finalize the design of the piece to be created.  The jeweler, designer and/or customer work together to finalize the idea and design of the piece to be made.  Some jewelers are excellent designers and excel at thinking outside the box.  Other jewelers are more strictly technicians and rely on the designer or customer to tell them what they would like to have made.  Either way – it is important for a jeweler to be involved in the design process, to ensure that there won't be structural issues in the design at hand.
Both before and after the piece is designed, be sure confirm pricing with the jeweler before any fabrication begins.
Some points to consider on the pricing of custom jewelry:

Some jewelers will charge a design fee up front, to cover their time and labor regardless of whether you decide to make the piece.  Find out first if there is a charge to have a rendering drawn or if you are charged only upon having the piece made.
Ask for the expected time frame for a custom piece to be made – this is usually four to six weeks based on the design, the stone and the metal. Find out of there will be a rush fee if you need it sooner. Are there fees for having multiple preliminary designs made?
Get an itemization of the price. The jeweler should be willing to give you a firm estimate before starting on your custom piece.
Step 2 – Making the Ring!
The ring can then be manufactured one of two ways.
Fabrication: The first option to producing a ring is that it is fabricated directly.  This means the jeweler with saws, files, pliers, various other metal-smithing tools and a soldering torch will form metal into the shape that is desired.  Though a tried and true method, this process is sometimes tedious, labor intensive and does have its limitations.
The other method has several more steps, but generally allows for more intricate detail and control:
Wax Forming: This is the second way that a majority of jewelry is produced.  First, the piece is sculpted out of wax at the exact scale of the final piece.  More organic jewelry pieces will often be hand carved.  For technical pieces that require a wealth of precise detail, three-dimensional modeling using software is often used in the industry.  The item can be built and modified in the computer, and then a three dimensional mill will create a to-scale version of the final piece.
Casting:  Once you have the wax piece completed, the next step is to cast the piece in metal.  The wax piece is encased in a plaster like substance, which dries and becomes rock hard.  The wax is then heated out of the plaster mold, leaving a cavity in the plaster that is the exact design of the previous wax piece.  Then, molten metal is cast into the plaster cavity and allowed to cool.  This is a process known as "lost wax" casting – because the original wax model will be destroyed in the casting process.
Step 3 – Pre-Polishing:  
After the piece has been cast in gold (or platinum, palladium, or silver), it is cleaned and polished.  At this point, tool marks are removed and the ring is inspected for any defects caused during the casting process.
Step 4 – Setting:
If the ring is going to have any gemstones set into it, they are set at this point.  The stone setter has a clean and precise work area and takes extreme care.
Step 5 – Polishing

:
The jewelry piece is given a final polish – eliminating any minor scratches still remaining.  At this point, the ring is also surgically cleaned, eliminating any oils or residue from the jeweler's hands and from the polishing compounds used.
At this point, the ring is complete and is slipped into a jewelry box, to be presented to the new, excited owner!
In the excitement of finally seeing your custom piece in front of you, it's important to remember a few things:
Be sure to try on the jewelry.  If it's a ring for yourself, it's better to ensure the fit while you're still at the jewelry store and have a jeweler confirm the fit if you're unsure.
Be sure to ask if there are any special care recommendations for your new ring and any gemstones.
See if the store offers any sort of warranty for the custom jewelry piece should something unexpectedly happen due to workmanship.
Many jewelers now offer custom design work, recasting of gold and resetting customer's old gemstones.   Ask your local jeweler what custom design options they offer or if there are designers in your area that they would recommend.  They can also tell you if there are any additional charges for these services or if these services are comparable to their retail jewelry pieces.
Have you ever had custom jewelry made?  Do you have a piece you've always wanted but haven't been sure how it could ever be made?  Ask your jeweler and see if it's feasible!  Ask us if you have any further questions.