Out of all the gems, garnet happens to be the most diverse. Although it is commonly red, it is also available in striking shades of green, yellow, orange and purple. Those who are born in January are lucky to call garnet their birthstone. Its variety offers endless possibilities to use creatively in jewelry, which makes it an exciting birthday present for anyone. Read on and learn how to buy the best garnet jewelry for January birthdays.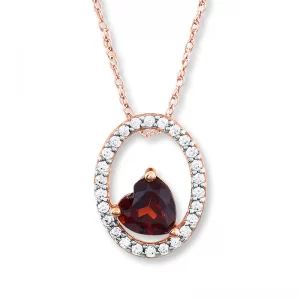 What is so unique about garnet?
Since garnet looks like a pomegranate seed, it gets its name from the Latin word 'granatus'. In English, it means 'seed'. However, garnet has a range of stones. The five most important types are andradite, pyrope, almandine, grossular, and spessartine. Each one has its own color.
For instance, spessartine comes in vivid yellow or orange. Almandine and pyrope vary from purple to red. Andradite is often yellow to green. But grossular has the widest selection: You will find them colorless; you will find them in yellow or orange-red. However, the most popular type of grossular is the exciting green color stone called tsavorite.
Altogether, this January birthstone offers a unique opportunity: You can combine it with other stones or other garnet types for a kaleidoscopic effect.
What does it mean to buy garnet jewelry?
Depending on whom you are intending it for, what you buy can convey different meanings.
Perhaps it's for your partner. If you are in the early years of dating, you might want to get a stylish pair of garnet earrings or a garnet bracelet. However, if it's for your spouse, then you might want to gift them a gleaming garnet necklace.
Or let's say it's a birthday present for your mother or grandmother. A pair of garnet earrings would be a thoughtful gift that shows your appreciation for all that they have done for you.
If it's your best friend's birthday, then they might love a garnet bracelet. They can wear it every day or on special occasions.
Before we dive into the types of garnet jewelry, think about what you're trying to say with your gesture. It will help you to select the best present for them.
What are the different types of garnet jewelry you can buy?
As garnet is versatile, they make for attractive jewelry options. Thus, prices can start as low as $30 but go as high as $6,800. Regardless, you will find that there is always something to match your requirements.
Garnet bracelets
Let us start with garnet bracelets. These are appropriate for anyone. It's also the ideal gift if you have a tight budget. For under $700, you can easily find a shapely sterling silver garnet bracelet ($60-$691). Likewise, you can buy a charming yellow gold garnet bracelet starting for as little as $200 and going no higher than $500.  However, if you spend a little more, you can pick up a lustrous gold garnet bracelet for $600.
No matter what you pick, a garnet bracelet would look gorgeous when slipped onto your recipient's wrist.
Garnet earrings
Garnet earrings can make a statement. The actress Scarlett Johansson was once spotted wearing garnet earrings to a dinner at the Dolce & Gabbana Gold Restaurant in 2012 as part of the Milan Women's Wear Spring/Summer 2012 Fashion Week.
If your intended recipient prefers earrings, then a pair of garnet earrings would add a dash of color to their outfits on any occasion. They are great for a friend, a partner, your mother or another dear family member. Not to mention, they are affordable too.
If they prefer more modern jewelry, they would be flattered by a sparkling pair of sterling silver garnet earrings. Not only do they look fabulous, but also you will find different types for prices ranging between $30 and $360. The same applies to a tantalizing pair of white gold garnet earrings, costing anywhere from $320 to $2,000.
However, if they like vintage-style jewelry, then thrill them with classic gold garnet earrings from between $840 and $6,758. You can also achieve the same effect with a darling yellow gold pair of garnet earrings. It only costs as little as $68 or as much as $480.
If you want something bolder and more adventurous, you're in luck. Astonish your recipient with a fascinating pair of rhodium garnet earrings for $200. You can also surprise them with a delightful pair of rose gold garnet earrings for less than $500.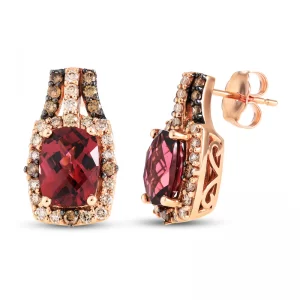 Garnet rings
Since garnet is given to celebrate the 2nd wedding anniversary, a garnet ring is a symbolic gift to give your spouse as you enter the second year of your marriage. If their birthday happens to fall in January, it's a double victory. However, if you aren't married but are thinking about popping the magical question, perhaps you should consider a garnet engagement ring. Depending on the stone type, garnet ranks 6.5 to 7.5 on the Mohs scale and are generally tough. Hence, they would be durable as long as they are properly looked after.
If you are convinced that a garnet ring is what you seek, then increase your budget to $4,200. This will provide you with a host of options.
For less than $400, try out either a pleasing sterling silver garnet ring or an alluring yellow gold garnet ring. You will also find a graceful rose gold garnet ring within this range; however, they can cost as much as $2,640.
For more than $400, a mesmerizing white gold garnet ring is worth every cent when worn on your recipient's hand. If you're ready to set a minimum budget of $620 upwards, you must consider the luscious gold garnet rings. Better yet, if you want to make a memorable gesture, buy them a rare two-tone gold garnet ring for $1,500. They'll love it – and you – even more.
Garnet necklaces
Whether it is for daily wear or formal functions, you will find a garnet necklace fit for every occasion.
If you want to get something elegant yet without breaking the bank, you would be interested in a delicious sterling silver garnet necklace. You will find different types available for between $50 and $200. Similarly, this intriguing rhodium garnet necklace will cost you $200 but it's as lovely as the most expensive garnet necklace you can find.
If you raise your budget as much as $1,000, you can choose from either a magnetic rose gold garnet necklace ($99-$400) or a splendid yellow gold garnet necklace ($68-$800).
However, if the price does not worry you, then your options expand widely.
For $280 to $1,840, stun your recipient with a birthday present of an exquisite white gold garnet necklace. Likewise, a divine gold garnet necklace ($450-$5,878) would look resplendent when worn to special events such as a wedding. If you want to truly dazzle them, then buy an enthralling two-tone gold garnet necklace for $4,040.
Any glittering garnet necklace will immediately make conversations halt and turn heads when the wearer walks into the room. No matter the price, what you buy will always be worth the effect it creates.
Now that you have a broad idea about the types of garnet jewelry available, let us take you through other factors to consider along the way.
What should you pay attention to when buying garnet jewelry?
Before you step into a jeweler's shop, it helps to do your research. Study the person for whom you are shopping – check out the jewelry that they like to wear. If it's for your significant other, this is easier if you're living together. For someone else, however, you can also ask for help from someone close to them to help you out. But if it's a surprise, make sure you swear them to secrecy first. Think about their fashion sensibilities. See whether they prefer minimalist jewelry or heavier types. Since garnet comes in different colors, pick the gem in their favorite color or that will go with their preferred outfits. For instance, if they love to wear green color attire, red garnet stones would contrast beautifully. Conversely, tsavorite would pair excellently with red outfits.
What is the cost of garnet gemstones?
The cost depends primarily on the type of garnet. This is followed by the usual factors of color, cut, clarity, and carat weight. The overall price will increase if you decide to add more than one stone to the jewelry or if you customize the design.
However, when you see the result, you will be glad to have paid for it.
Why is garnet jewelry a great gift?
The value of garnet lies in its color. That's what makes it a highly desirable gemstone. Its range of colors allows you to get creative and customize. Whether you want it in red, green, purple, yellow or another color, there will always be something to select. It can take time and effort to buy garnet jewelry, especially if you want to get it tailored. However, your troubles will be rewarded when they see what you have bought them. It'll certainly be a birthday that they will never forget.